PlanEAR!
Disneyland
Splash Mountain <attraction/Critter Country> Closed for refurbishment, reopens Apr 14th.
Dumbo the Flying Elephant <attraction/Fantasyland>  Closed for refurbishment, reopens Apr 27th.
Main Street Vehicles <attraction/Main Street U.S.A.> Closed for refurbishment, reopens Mar 15th
"it's a small world"  <attraction/Fantasyland> Closed to remove the holiday overlay, reopens Feb 1st.
Casey Jr. Circus Train <attraction/Fantasyland> Closes Feb 5th for refurbishment, reopening date TBA.
Storybook Land Canal Boats <attraction/Fantasyland> Closes Feb 5th–15th for refurbishment.
Disney's California Adventure
The Golden Zephyr <attraction/Paradise Garden> Closed for refurbishment, reopens Jan 25th.
The lockers in Disney California Adventure are currently closed for replacement. Lockers are still available outside the park entrance.
The Bakery Tour <attraction/Pacific Wharf> Closed for refurbishment, reopens Feb 2nd.
Redwood Creek Challenge Trail <attraction/Grizzly Peak> Closed for refurbishment, reopening date TDA.
Grizzly River Run <attraction/Grizzly Peak> Closed for refurbishment, reopens Feb 1st.
Cove Bar – Closed as part of the Pixar Pier retheme. The location will temporarily reopen in April during Spring Break.
The following attractions are closed as part of the Pixar Pier retheme. No reopening date is available at this time, and most of the locations will have new names when they return:
Games of the Boardwalk
California Screamin'
Mickey's Fun Wheel
Boardwalk Bazaar
Sideshow Shirts
Treasures in Paradise
Point Mugu Tattoo
Don Tomas Turkey Legs
Hot Dog Hut
Ariel's Grotto
Cove Bar
Paradise Pier Ice Cream Company
Crowd Impacting Events

 
**The 2018 NAMM (National Association of Music Merchants) show will be held at the Anaheim Convention Center this Thursday, January 25 through Sunday, January 27. This is the largest convention hosted in the Disneyland Resort area. Expect some convention-related crowds next weekend as a result.**
Lunar New Year Festival at Disney's California Adventure – Jan 26th through Feb 18th
Disney's California Adventure Food & Wine Festival – Mar 2nd through Apr 12th
Pixar Fest begins – Apr 13th. Debut of the new "Together Forever – A Pixar Nighttime Spectacular" fireworks show, as well as the first performances of the Paint the Night Parade in Disney's California Adventure, and Pixar Play Parade in Disneyland.
Dapper Day Spring Soiree – Apr 22nd. More information at the event website.
2018 Grad Nites: May 4th, 5th, 11th, 12th, 15th, 16th, 18th, 19th, 22nd, 23rd, 29th and 30th; Jun 1st, 2nd, 5th, 6th, 8th and 9th
Moonlight Magic after-hours event for Disney Vacation Club members – Nov 15th. Reservations open Oct 4th.
CHOC Walk – Aug 26th
Happiest NEWS on Earth!
For the First Time in Forever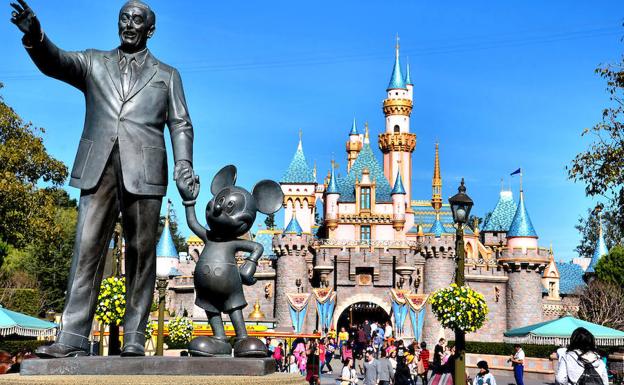 No snow, no diamonds, and no plastic! For the first time since 2014 we now see the turret roofs. This may not be the biggest or most ornate of the Disney castles but it is my favorite and, of course, the flagship of the company. Since the Disneyland TV show in 1954 Sleeping Beauty's Castle has made children's hearts sing and given adults goosebumps. Walking over the working draw-bridge (which has only official been used 3 times) and hearing "When You Wish Upon a Star" is a right of passage for millions of people over the last 63 years!
Happy New Year!
The Year of the Dog begins this Friday, Jan. 26th, with return of the Lunar New Year festival at Disney California Adventure Park. The event includes food offerings from a collection of restaurants, themed decorations in the Paradise Gardens area, a street festival with Mulan and Mushu, and a pre-show to the World of Color. 
Mulan's Lunar New Year Procession
A colorful performance held in Paradise Garden. Mulan and Mushu preside over this processional, which features dancers, acrobats, and drummers. There is a fairly small viewing area available here, so you'll want to make sure to arrive early enough to claim a good spot. Check performance times on the Disneyland website before you go, or check the Times Guide or Disneyland app once you're in the park.
Hurry Home – Lunar New Year Celebration
This World of Color pre-show is presented nightly.
Lunar New Year Marketplaces
Korea Marketplace (The Little Mermaid – Ariel's Undersea Adventure)
Kimchi Bokkeumbap – vegetable fried rice
Yachae Mandu – steamed vegetable dumpling with sesame-garlic soy sauce
Yang Gaeng – sweet red bean and raspberry jelly
Banana Ooyu – non-alcoholic banana milk
Mae Shil Ju – plum wine cocktail
Hite Pale Lager
China Marketplace (Golden Zephyr)
Xiao Long Bao – pork soup dumplings with black vinegar and ginger
Sanbeiji – three-cup chicken
Dan Ta – egg tart dessert
Wuxiang Huasheng Tang – five-spiced peanut brittle
Baixiangguo Lucha – passion fruit green iced tea with lychee popping pearls (non-alcoholic)
Tsingtao Lager
Vietnam Marketplace (Golden Zephyr)
Banh Chu'ng – sticky rice cake with pork
Chao Tom – sugar cane shrimp skewer with sweet and sour sauce
Banh Khoai Lang Tim – purple sweet potato macaron
Ca Phe Sua Da – Vietnamese iced coffee (non-alcoholic)
Paradise Gardens Cart
Zhurou Bao – steamed bao filled with pork and served with sweet chili dipping sauce
Xìngren Qu Qi – three mini almond cookies
Paradise Garden Grill
Ca Ro Phi Chien Gion – whole crispy tilapia with chili-lime vinaigrette served family-style with soup, vegetables and rice
Japchae – sweet potato noodles, onions, shiitake mushrooms, carrots, spinach, snow peas, broccolini, and lightly sauteed tofu tossed with sesame oil and sweet and spicy sauce and topped with toasted sesame seeds
Galbi – short ribs marinated and grilled Korean-style and served with steamed rice and kimchi
Pho Bo – beef noodle soup with seasoned beef stock, thinly sliced tri-tip and rice noodles with classic accompaniments of onion, jalapeno, basil-lime and hot sauce
Banh Mi Thit Nuong – marinated pork belly, pickled carrots and daikon with cucumber, cilantro, seasoned mayonnaise and jalapeno on a crispy baguette
Mango Pudding
Almond Milk Black Iced Tea with Pudding (non-alcoholic)
Black Beer Stout
Walk for the Children of CHOC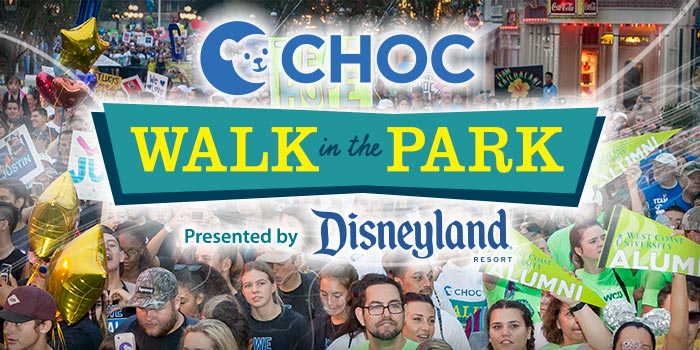 Children's Hospital of Orange County asks you to Save the Date for the 2018 CHOC Walk, which returns to the Disneyland Resort on Sunday, August 26.
This event is the largest fund raiser of the year for the hospital, and draws thousands of people to the Disneyland Resort during the for a 5-kilometer (3.1-mile) walk through Disneyland and Disney California Adventure. Registration opens later this spring.
Outside the Berm
Iconic Toon, Finally Gets a Star of Her Own
She may be turning 90, but film, TV and fashion icon Minnie Mouse is as em vogue as ever.
She has a starring role on a Disney Channel show, tirelessly greets fans at Disney Parks around the world, and has inspired top fashion designers well into her octogenarian years. She is a licensing powerhouse. And on Jan. 22, she received her very own star on the Hollywood Walk of Fame.
Minnie's forever sweetheart, Mickey Mouse, was at her side when she received the honor. Mickey was the first cartoon character to get a star in 1978, when he was 50, and was later joined by other Disney characters. 
Walt Disney Co. CEO Robert Iger and singer Katy Perry spoke at the 11:30 a.m. PST ceremony in front of the Disney's El Capitan Theatre on Hollywood Boulevard.
"After 90 years of serving LOOKS & smiles as the polka dot queen, it's time she got that recognition!'' Perry tweeted. The star is the 2,627th since the completion of the Walk of Fame in 1961 with the first 1,558 stars. The ceremony was livestreamed on walkoffame.com.
Minnie Mouse was part of the first animated film featuring Mickey Mouse, "Steamboat Willie,'' which was released in 1928. This means Minnie's star is for the Motion Picture category. Minnie Mouse is known for her polka dot attire and the ceremony coincides with National Polka Dot Day!