Throughout the long, seemingly endless stretch of quarantine measures and social distancing to combat COVID-19, Disney fans have been left wondering when they will be able to revisit their beloved parks. Recently Disney announced its plans for phased reopening of Disney Springs and Disney World in Orlando, Florida set for July 11 and July 15. Now the House of Mouse has finally detailed its Disneyland reopening plans in Anaheim, California.
While many Disneyphiles are rejoicing, there are also many who are accusing Disney of being greedy during a time of pandemic that is claiming thousands of lives across the US. Already, tens of thousands have signed a petition against it in favor of pushing back the reopening when cases have died down.
Looking solely at the numbers, as of June 12th Orange County has seen 210 deaths and 8,153 coronavirus cases out of its roughly 3 million population. Dividing this population (3,179,950 to be exact) by these figures averages a death rate of 0.0066 and infection rate of 0.26% – both a mere fraction compared to neighboring Los Angeles county. However, the city of Anaheim is only second in the county to Santa Ana, at 42.2 cases per 1 0,000 residents.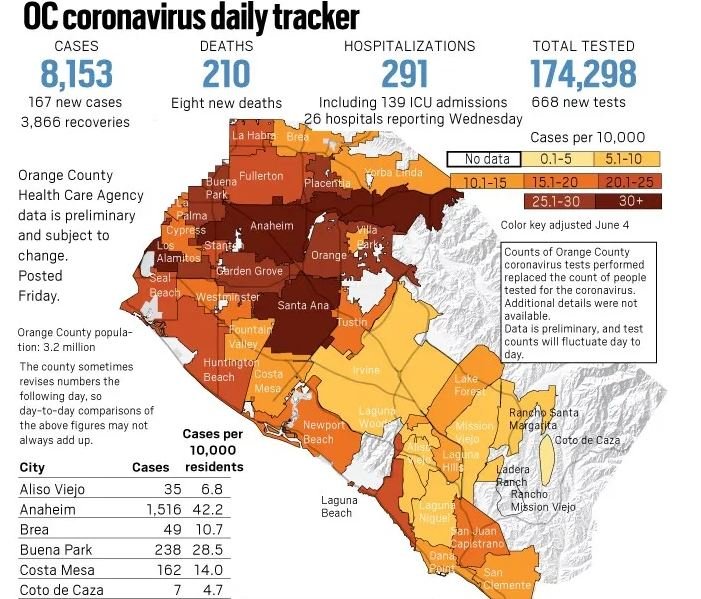 Ironically, Disney World in Orlando is also located in Orange County, which has experienced 46 fatalities and 2,937 cases. You can see that this is a far lower fatality and infection rate compared to California.  Plus, Florida entered phase 2 of reopening well ahead of California back in May 2020.
And yet, Orange County, California residents are already eschewing the use of face masks on the tails of the resignation of the official that passed the mandate requiring them. It seems that there is a deep divide between those fearing the threat of COVID-19 and those who are keen on exercising their freedom again. Ultimately, Disney must ensure the proper steps are taken to protect not only their guests but their employees, too.
Still, fear will prevent many from returning to the parks too soon, which will help keep numbers down anyway. However, those who do decide to return to the parks will be required to comply with Disney's new policies in accordance with the CDC and local governing agencies, including the wearing of face masks.
Disneyland Reopening Details
For now, Disneyland reopening plans begin with the Downtown Disney District on July 9th. However, the parks themselves are awaiting state and local government approval to tentatively reopen on July 17th. Two park hotels, Disney's Grand Californian Hotel & Spa and Disney's Paradise Pier Hotel, will reopen on July 23rd. As with Disney World, not all experiences will be offered or may be modified until further notice, and there could even be park closures at any given notice. Limited capacity rules will apply across the board as well.
Hopefully Disney will be able to continue making the best choices as the effects of COVID-19 continue to unfold. We'll faithfully keep you informed on all the latest updates.
California Adventure
COVID-19
Disneyland
Walt Disney World