Disney Springs finally reopens with new security measures in place. Since March when the Disney parks on both coasts closed due to COVID-19, we have waited for this moment – the start of the reopening. It is going to be a phased approach and starting May 27, most of the Disney owned shops and restaurants are open.  On May 20, some third party stores and eateries opened and it was smooth.  Universal City Walk opened earlier on May 15 and all has been going well there so this was the next logical step.
However, some things are a bit different due to COVID-19.  I will let you know about my experience going on the day after the official opening (Thursday May 28).  For the latest information visit the Disney Springs website.  For my trip, the website stated parking is only available on the Orange and Lime garages.  However, when I got there, only the Orange garage was open.  Parking was easy and there are several cast members directing the flow.
Once parked, I was sent to the temperature check station. It is located right before the escalators that go down from the second level to Disney Springs proper. The floor was marked to keep the 6 feet distance between parties and there were two lines when we got there so it wasn't busy.  A nice cast member wearing a mask and gloves takes a handheld temperature scanner and puts it close to your forehead without touching you.  She looks at the reading and lets you in.  Very easy.
Once down the escalator, three things stuck out – the large number of cast members working (great to see), not a lot of people out and about (it was 11am and rain was in the forecast so not very busy) and everyone was wearing masks and keeping the distancing rules.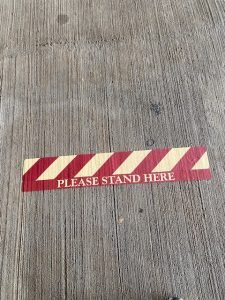 Not all the stores are open, but most have queue marks by the doors and typically they have one way in and a different way out. I was a bit worried about going to the World of Disney since yesterday's line to get in was over 3 hours at one time and a virtual queue was put in place.  However, today, I was surprised and walked right in.  Again, it was interesting to see lots of people working and everyone giving each other space and following the rules.
Both at the entrance and exit of the store there were hand sanitizer dispensers.  These and different signs are all over Disney Springs and spell out the new security measures for the reopening.  We were pleased to see that everyone was very conscious of following the rules.
Next, I went for classic Poutine as a snack.  Another pleasant surprise are the new utensil dispensers for the forks.  If you have been to fast food locations at Disney Springs or the parks, or at the EPCOT festivals, you will be happy to see the new dispensers that allow for only one item to come out at a time.  There is a picture above to show you.
Tables for outside seating are separated at least 6 feet and I recommend getting a snack.  You can take off your mask to eat or drink and you probably will need the break because it does get hot.
Overall, it was a good experience.  For me, this is a good sign that things are getting better and shows some of the procedures that they'll use in the parks when they reopen in the middle of July.
#reopening
Disney Springs